This project was completed for "Information Architecture II," a course in Kent State University's Master of Science in User Experience Design curriculum. The assignment was to redesign the library's site structure to make it easier for patrons to find useful information. The project took place over seven weeks. Below is my final report for the Allen Public Library stakeholders.
The City of Allen Public Library's current website is difficult to use and patrons are having problems finding the information they need. Allen Public Library asked the Frey by Design agency to examine their current website and restructure it so it would be easier for patrons to use. During this project, special care was taken to understand the Allen Public Library patrons and their needs. We interviewed library website users, and discussed their goals and what difficulties they encountered. We then developed personas (fictional characters based on our research) and determined key tasks that the library's patrons most frequently wanted to accomplish. From there, we developed a site map of how the website should be laid out, tested it with real patrons using key tasks based on our research, and made adjustments to the site map based on test feedback.
Research Conducted
Over the last seven weeks we conducted the following research:
•  ran user interviews
•  created personas
•  set key tasks
•  conducted content analysis
•  created a site map
•  ran usability tests
•  built wireframes
•  tested wireframes
•  compiled the results
Personas
From our interviews with library patrons and library staff we identified key tasks important to the library patrons. This helped guide the site map design and wireframes.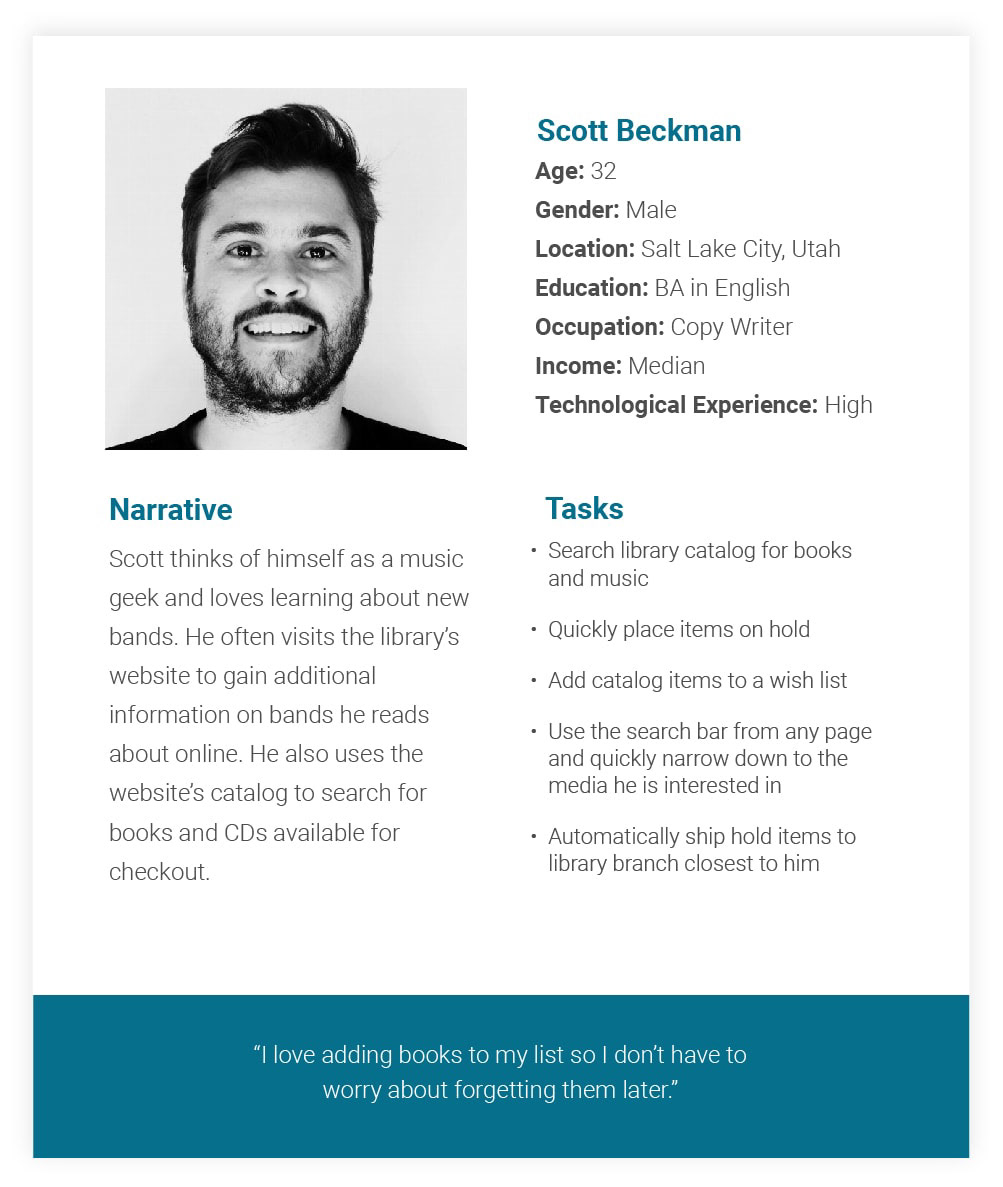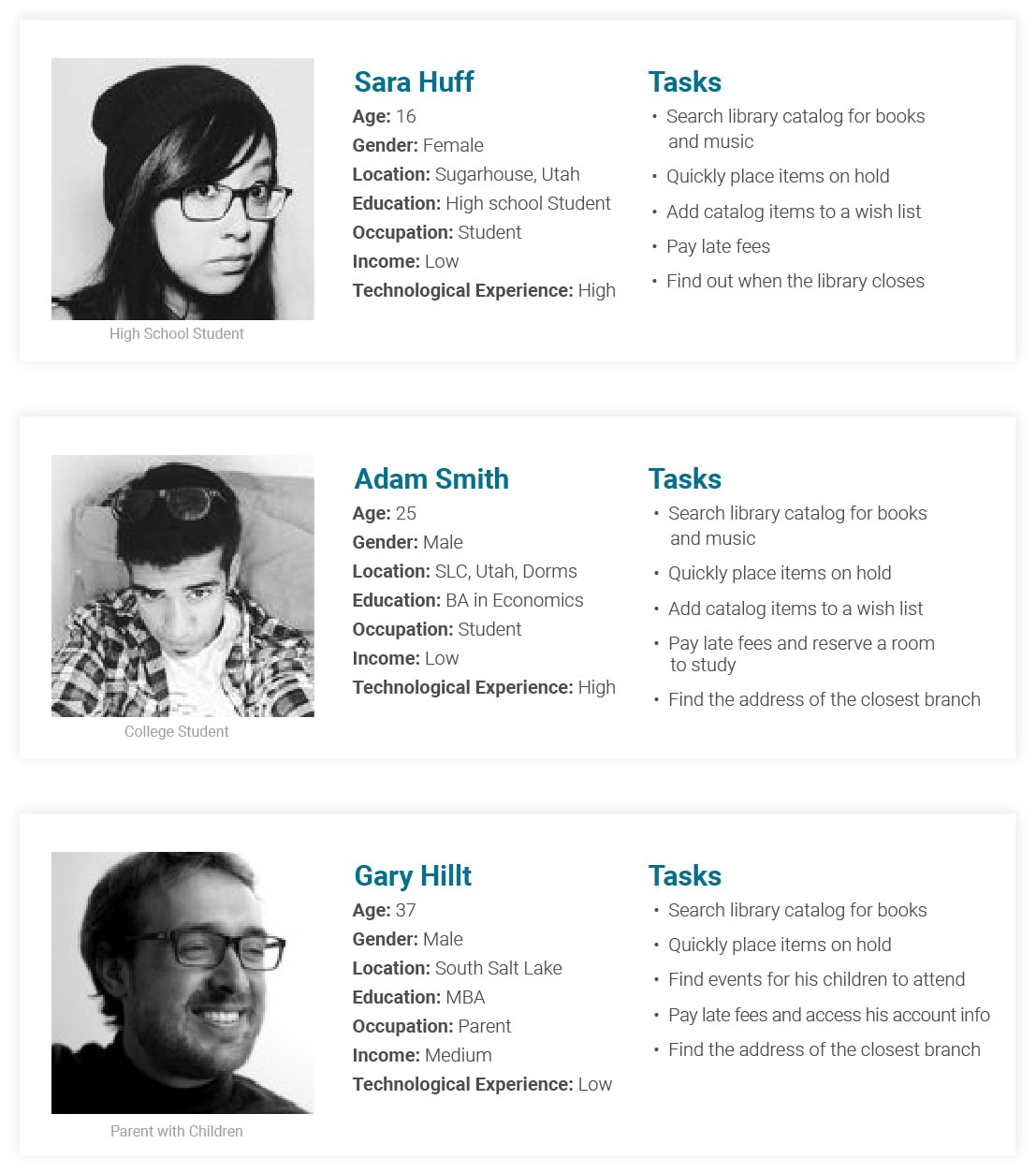 Personas Using Prioritized Tasks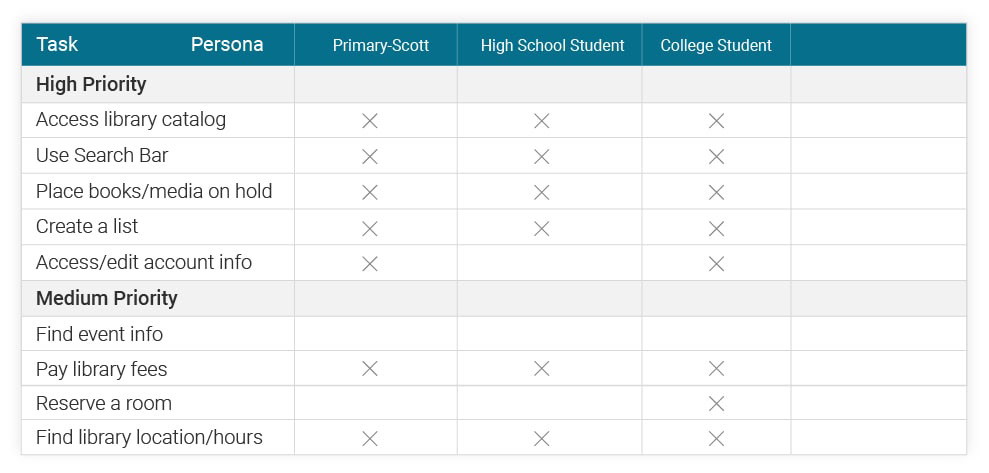 Site Map
The site map is a culmination of everything we learned so far, put into a practice. The orange tabs indicate which tasks were most important to library patrons. The only task that is not represented on the site map is the "Place Books/media on hold" because it is an action that will be performed by the user once they navigate to the catalog and find what they are looking for.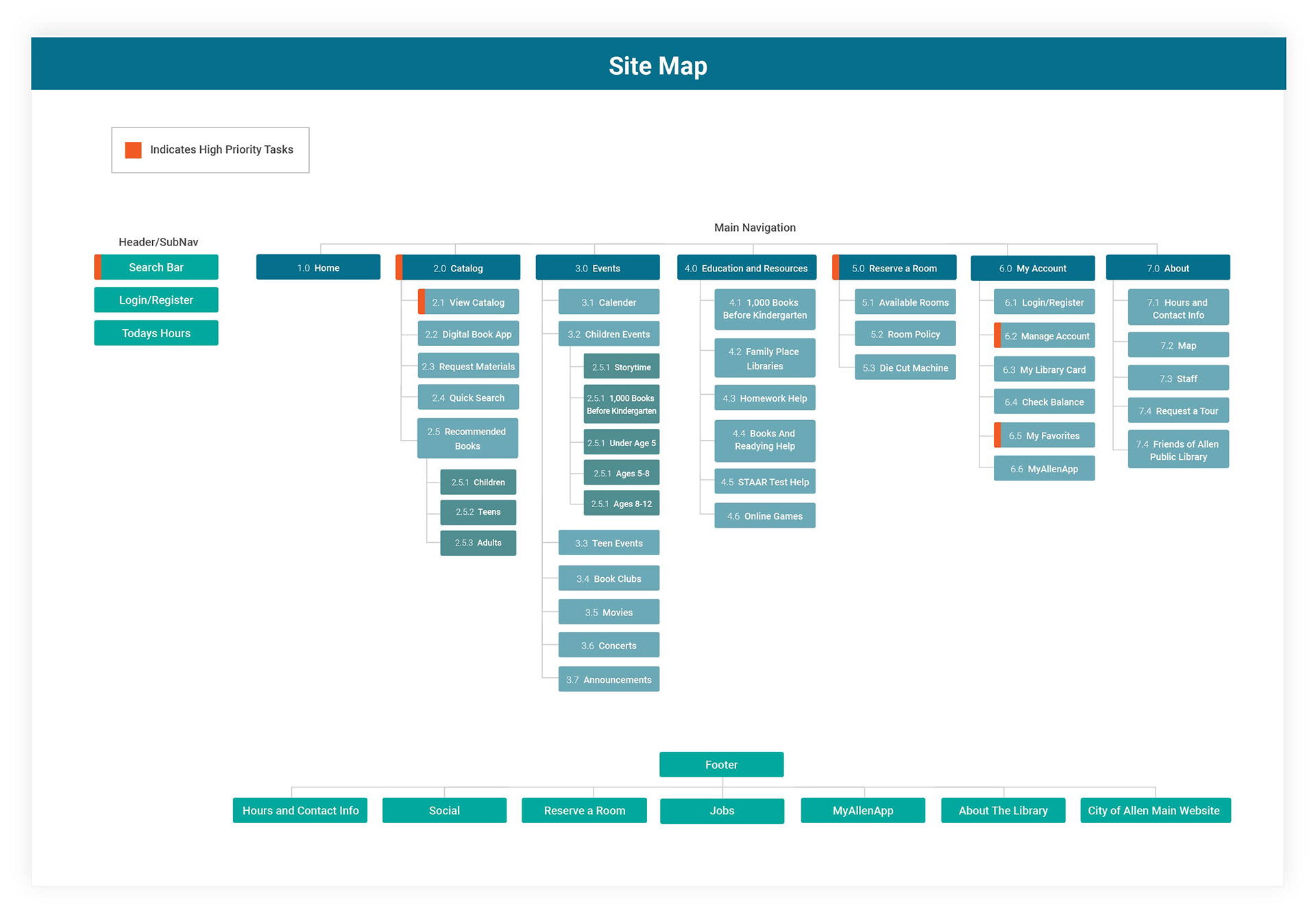 Navigation and Site Organization
The Allen Public Library is primarily using an audience based scheme. This can be confusing if the audience doesn't know what group they belong to, or if there is overlap between groups. We found that using a variety of organization schemes can be beneficial. Based on our research, we used a hybrid of the following three schemes to develop our site map: 
Topic scheme allows similar content to be grouped together. It is the most commonly used website scheme, so users are already accustomed to browsing this way. Because of this, we heavily used it in the top navigation of our site map. 
Task scheme helps users accomplish a specific task, such as signing into an account or finding a library's hours. We used this scheme in our top and sub-navigation. 
Audience scheme organizes information according to user groups. We used this scheme in the "Catalog" and "Recommended Books" sub-headers.

Wireframes
We designed and tested the wireframes (shown on the next page) to ensure that patrons would be able to easily accomplish both the high and medium priority tasks. All test participants completed the tasks with a 100% success rate. The wireframes offer several redundant access points (based largely on identified key tasks described above) which allow patrons to quickly get to the information they're most interested in. An example of this is the new home page layout which displays the most commonly searched for information right up front. This information includes the search feature, library hours, catalog access, events, book and media favorite lists, and account information.
Conclusion
The current library website is difficult to use and patrons are having problems finding the information they need. We are confident that the new site map and wireframes offer library patrons a superior user experience and better access to the information they want most.
Hand Drawn Wireframes Used in Testing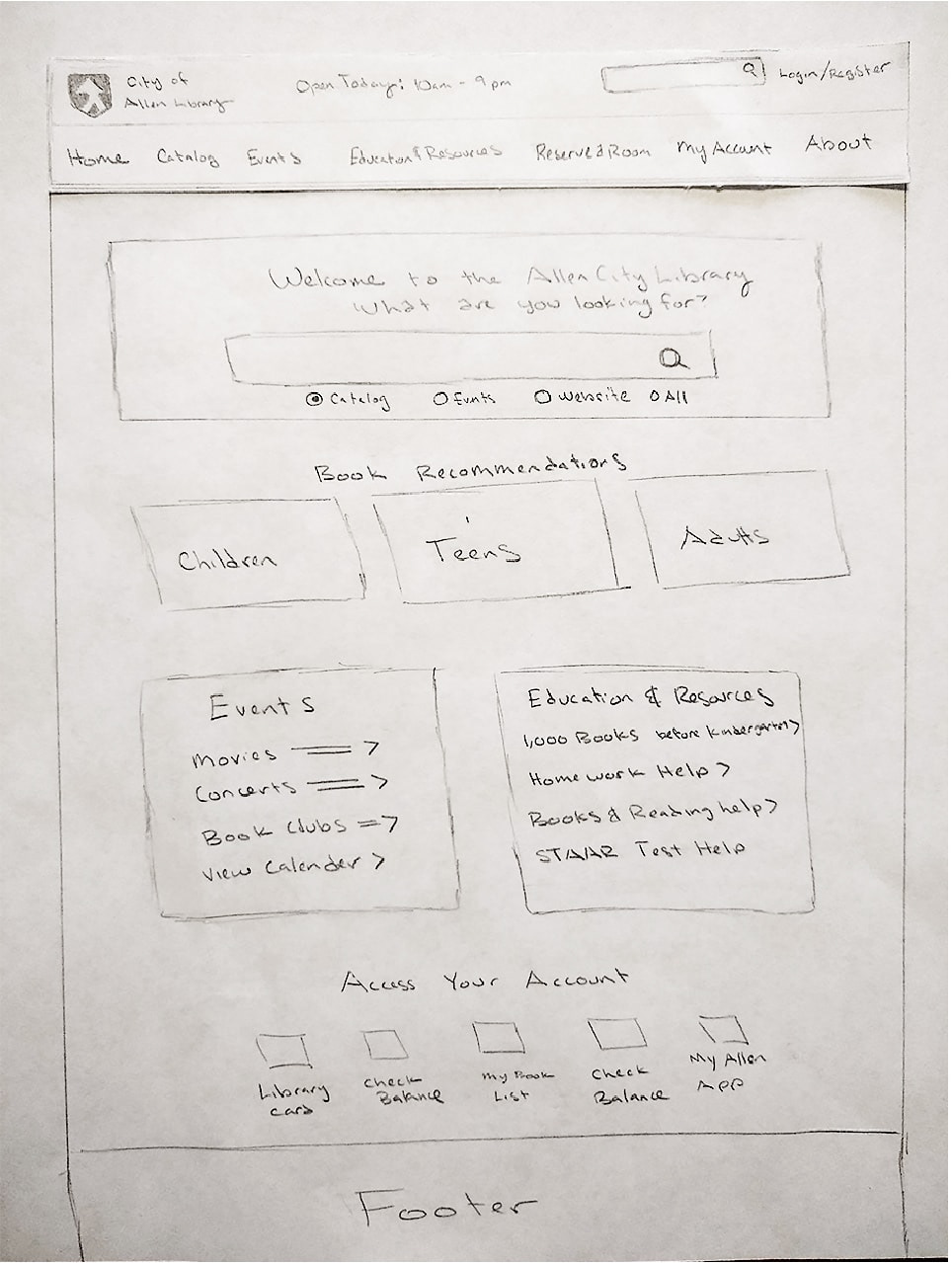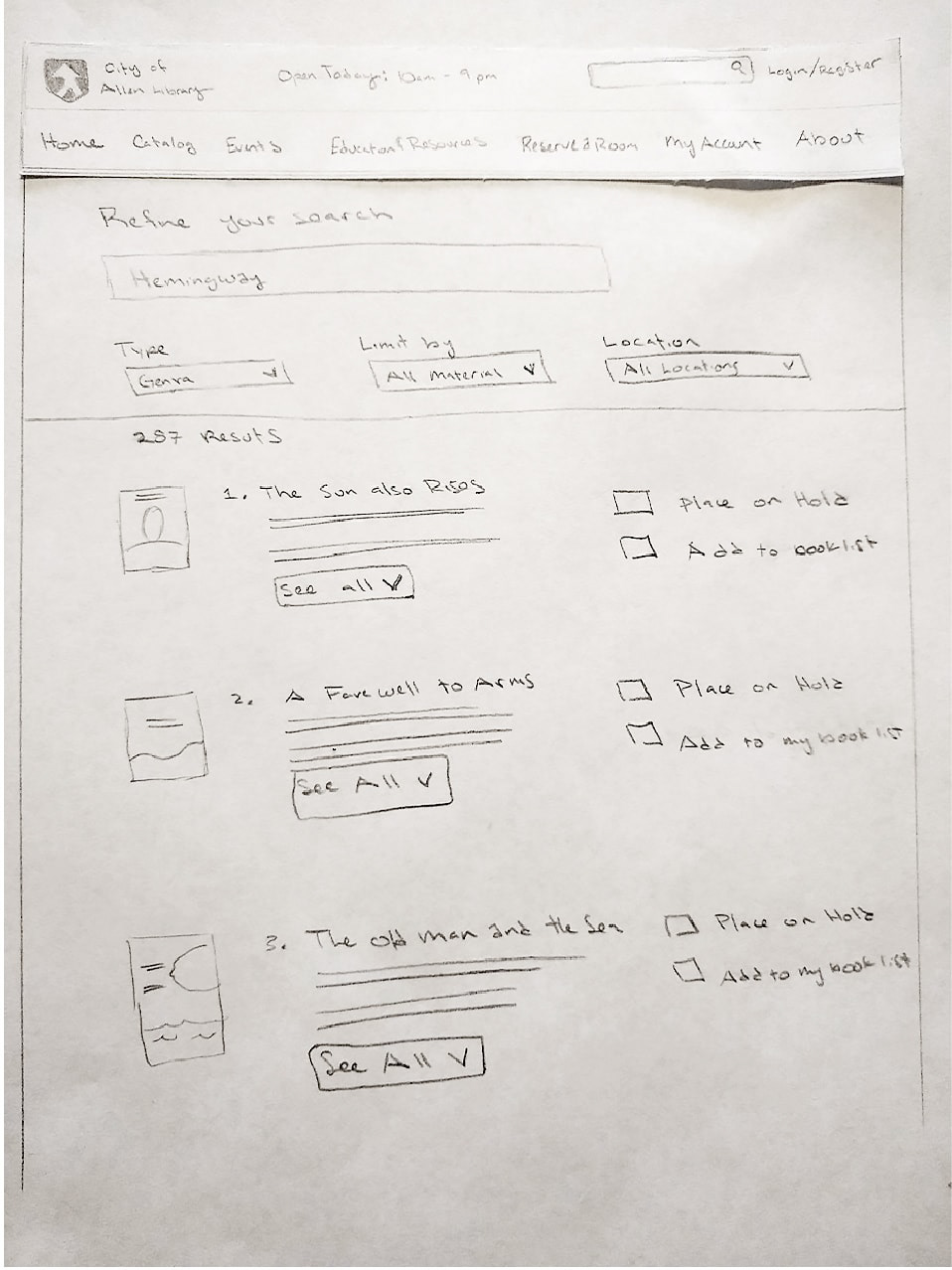 Account - Check Balance Page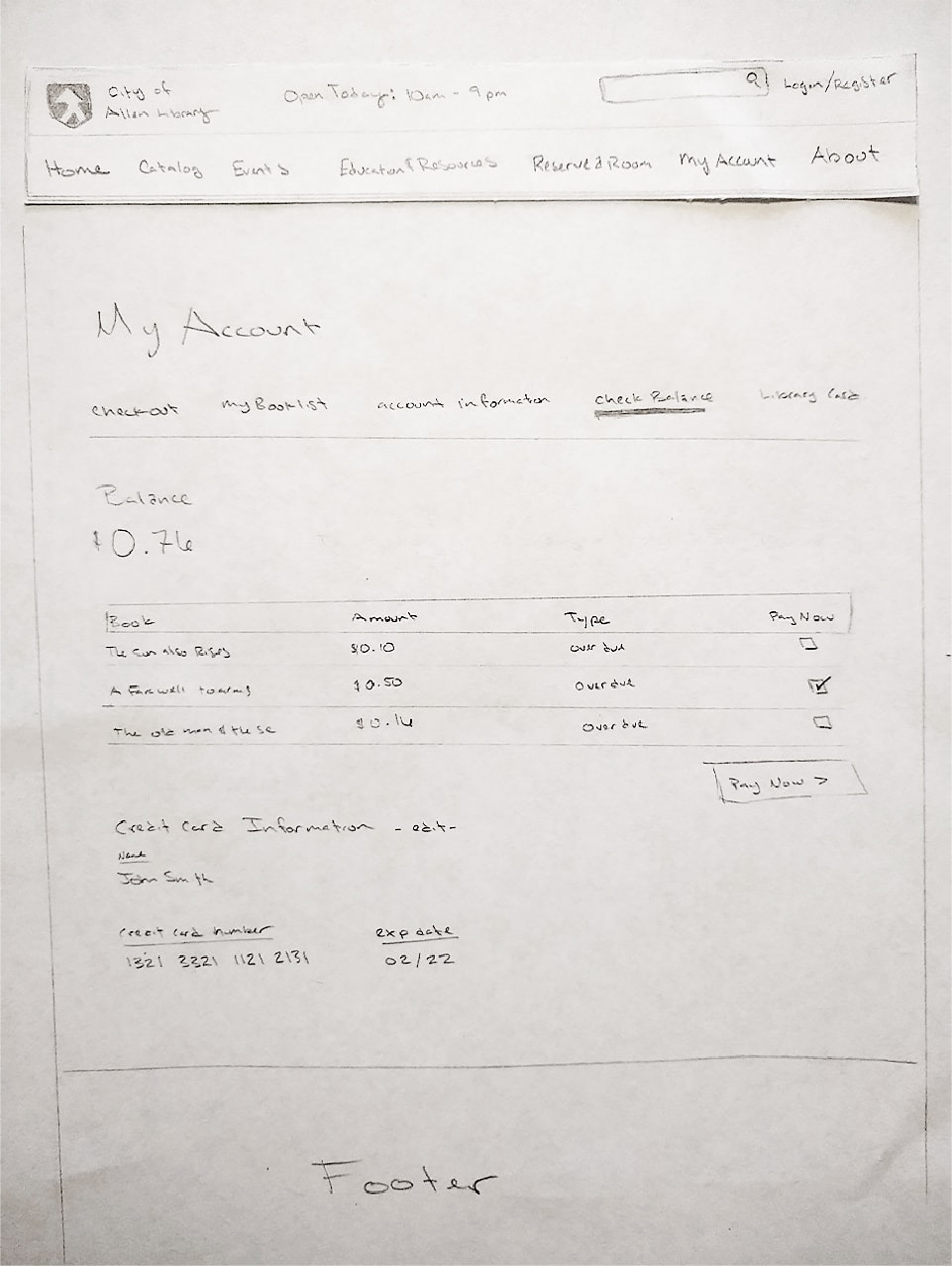 Account - Information Page